7th Annual Multidisciplinary Benign Urology Research Symposium
April 28 and 29, 2022, virtual 1-5pm
Keynotes ★ Panel discussions ★ Platform presentations
Trainee Awards ★ Small Group Discussion with Experts
Keynote speakers include J. Curtis Nickel, MD, and Karl-Dietrich Sievert, MD, PhD, and discussions will be on chronic urologic pain disorders and the science of the underactive bladder.
Faculty, fellows, postdocs, students, and staff from all disciplines with an interest in any aspect of benign urological diseases are invited to attend.
Registration and abstract submission are open. Abstract submission closes March 29, 2022.
SBUR Annual Meeting is now fully virtual!
Visit our meetings page for the full agenda and registration information! 

Congratulations to the Newly Elected SBUR Executive Committee!
2020 SBUR Annual Meeting is going virtual!
Following consultation with past leadership of our society, the SBUR Executive Committee and the Program Planning Committee have come to a consensus to run the 2020 Annual Meeting as a virtual event.  While we would have welcomed the opportunity to be together in person, the current restrictions on travel and the ongoing pandemic continue to present challenges.
The Program Planning Committee have put together a superb program and we are looking forward to a successful event! Stay tuned for more information! 
Congratulations to the Newly Elected SBUR Executive Committee!

SBUR is hosting it's first virtual meeting! We have a fantastic line up of speakers! Meeting agendas can be found here. Don't delay and register today!
NIDDK Funding Announcement
The National Institute of Diabetes & Digestive & Kidney Diseases (NIDDK) is pleased to announce the release of a new funding announcement titled "Small R01s for Clinical Trials Targeting Diseases within the Mission of NIDDK (R01 Clinical Trial Required)."  This Funding Opportunity Announcement encourages the submission of pilot and feasibility clinical trials conducted in humans that will lay the foundation for larger clinical trials related to the prevention and/or treatment of diseases and conditions within the mission of NIDDK. The program will support small, short-term clinical trials in humans to acquire preliminary data regarding the effects of the intervention, as well as feasibility data related to recruitment and retention and study conduct.
Applications for clinical trials submitted under this FOA should have clearly described aims and objectives and have a high likelihood that the trial findings will lead to a more definitive, hypothesis-driven trial to improve understanding, diagnosis, prevention or treatment of the diseases studied and have the potential to impact clinical practice and/or public health.
Please note:  Preliminary data regarding intervention efficacy are not required. The announcement is available at https://grants.nih.gov/grants/guide/pa-files/PAS-20-160.html.
The NIDDK encourages individuals and organizations to promote and disseminate this RFA information in related newsletters, publications, or on organizational websites.  To request additional information, please email a point of contact for each division:
For inquiries related to Kidney, Urologic and Hematologic Diseases, please email Dr. Susan Mendley at: 

[email protected]

.
For inquiries related to Diabetes, Endocrinology and Metabolic Diseases, please email Dr. Barbara Linder at 

[email protected]

.
For inquiries related to Digestive Diseases and Nutrition, please email Dr. Aynur Unalp-Arida at: 

[email protected]

.
Earliest submission date is May 5th, 2020. 
Posted: 4/9/2020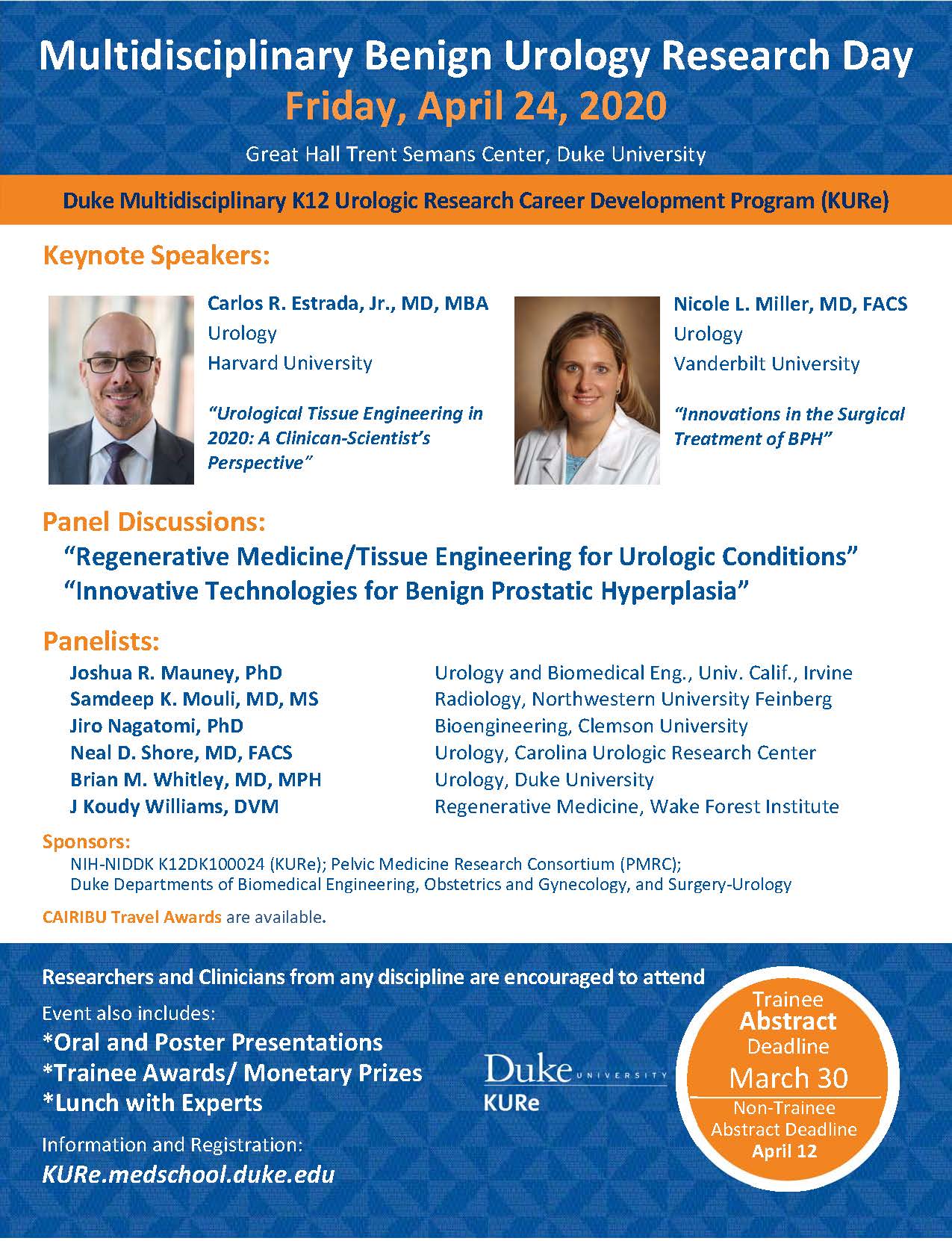 Click here to register. More information below!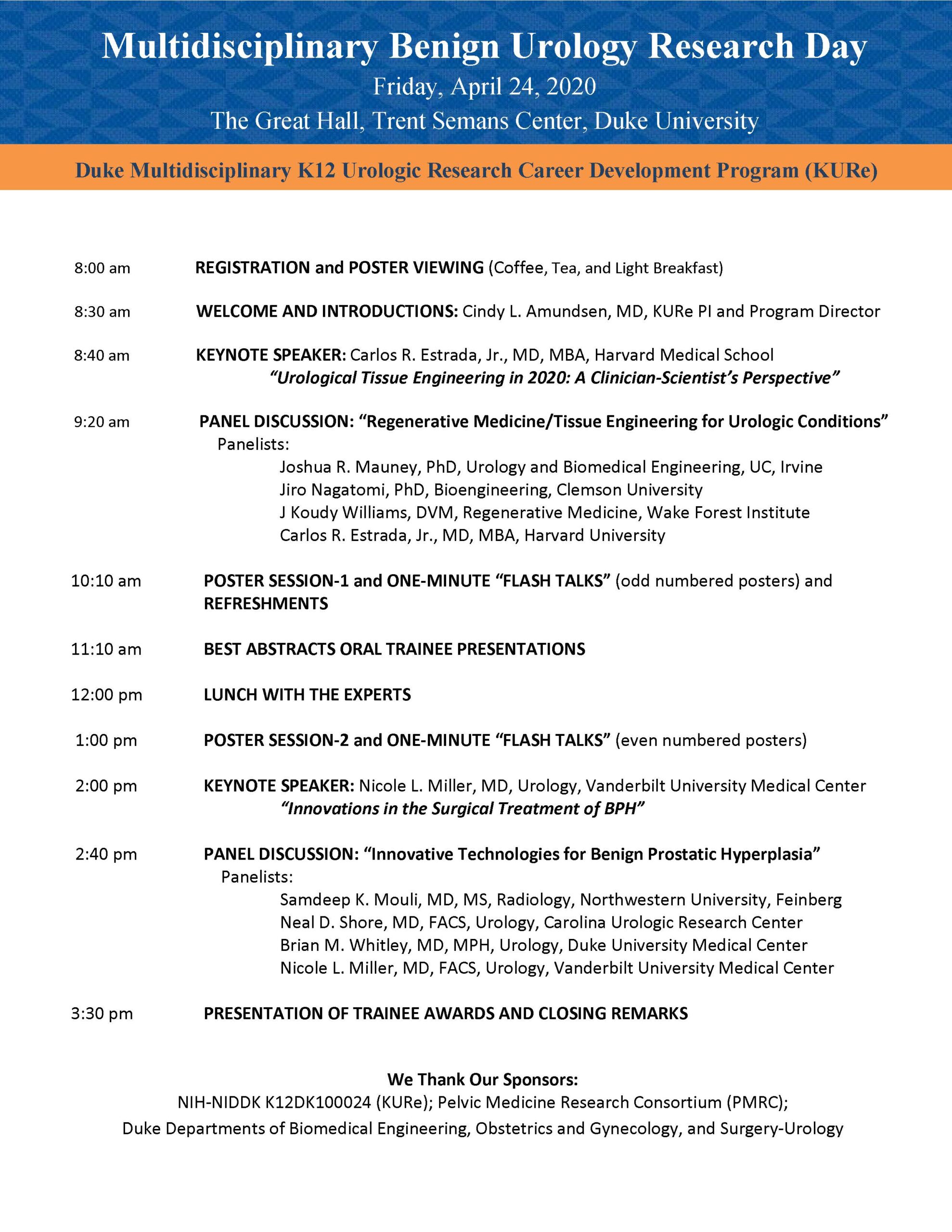 Congratulations 2019 Urology Care Foundation Awardees of Distinction!
These awards will be presented at the Urology Care Foundation Research Honors Program and Reception on May 4, 2019 at the AUA Annual Meeting in Chicago, IL.
Message from SBUR President Allen C. Gao, MD, PhD
These awards will be presented at the Urology Care Foundation Research Honors Program and Reception on May 4, 2019 at the AUA Annual Meeting in Chicago, IL.
Congratulations to our newly elected Executive Committee members and thank you to all our exceptional candidates for their steadfast dedication to SBUR.
I look forward to seeing you at the SBUR Spring Meeting during AUA2019 at the Chicago McCormick Place, and I hope you will join us at our Members Luncheon at 12pm on May 4th as well.
Message from SBUR President Dr. Allen C. Gao
Dear Colleagues,
It is with a heavy heart that we announce the passing of Dr. Denise O'Keefe.  Denise died peacefully in her home on Sunday morning, March 17, 2019.
Denise was a talented and dedicated scientist, professor, mentor, wife, and mother.  Denise received her Bachelor of Science degree with honors in genetics from La Trobe University, Australia. She then completed her Ph.D. training in 1995 at the University of Adelaide, where she studied ABO blood group genetics and hematologic malignancies. For her postdoctoral training, Denise moved to the United States to work in the laboratory of Ben Tycko at the Columbia University College of Physicians and Surgeons in New York, where she continued to study cancer genetics.  Denise then moved to train with Skip Heston at the Memorial Sloan-Kettering Cancer Center, and later at the Cleveland Clinic, where she and her husband, Dean Bacich, made important contributions to the understanding of the genetics and biology of PSMA (prostate specific membrane antigen).  Her seminal work in the Heston laboratory defined the structural organization of the PSMA gene, its promoter, and PSMA homologs.  Denise and Dean were recruited for their first faculty appointments at the University of Pittsburgh, where they continued to study the role of PSMA and folate metabolism in prostate cancer biology and epigenetics. In 2007, Denise received the SBUR Young Investigator award for her work on PSMA and prostate cancer. In 2014, Denise and Dean moved to the University of Texas Health at San Antonio, in the Department of Urology and the Mays Cancer Center, where they have continued to their important work on prostate cancer genetics, PSMA biology, and folate metabolism.  Denise and her laboratory have received several SBUR awards over the years for their pioneering work and dedication to urologic research.  This year, Denise was promoted to Professor of Urology and awarded the Quincy and Estine Lee Endowment in Cancer Research.
Our thoughts are with Denise's family at this time as we collectively mourn the loss of an incredible friend and colleague.